Yes, it's a new year, so in with the new…but not without another shout out to some "old" that's coming with me into 2019.
Big Island Candies
Oh. My. God. Crack in cellophane wrappers. If you are EVER purchasing a lovely gift
basket to send, or in the mood to treat yourself and your family, look nowhere else. Not a huge sweets person, I can usually sample and leave alone. Not with Big Island Candies. My introduction began with the Mika Chocolates: These soft nibbles feature a dark-chocolate coating on the outside, and on the inside, a smooth, lightly whipped blend of dark and milk chocolate, cream and butter, and finally, a cooling touch of mint flavor. They are all that and more. You won't find a better chocolate mint.  I next became enslaved by the Milk Chocolate Macadamia Nut Toffee, followed by the Milk and Dark Chocolate Covered Macadamia Nuts.  But no need to stop there…Big Island Candies also has Signature Shortbread cookies,  brownies, and a number of other treats. Don't take my word for it…experience these treats for yourself. https://www.bigislandcandies.com/
Bissell Powertrak Compact Vacuum
One might imagine I'm a cleaning nut with this addition, but the reverse is true. I like a clean space, but just about anything else can pull my attention away from cleaning.  This little vacuum encourages me back to the task because it's powerful enough to be effective, so light I don't mind going up and down stairs with it, and super easy to use and maintain. I bought it for around $60, and it boasts cheery lime green accents! A winner from Bissell.  The Bissell says this little number is no longer available, but it is at Bed, Bath, and Beyond. Snatch it up… Bissell Powertrak
Louise Penny
If you have not been introduced to award-winning bestselling author Louise Penny, here are the basics: A Canadian author of mystery novels set in the Canadian province of Quebec centred on the work of francophone Chief Inspector Armand Gamache of the Sûreté du Québec.
If there's one thing I have done my entire life, reading is it. After spending my entire childhood focused on reading, I majored in it in college. Reading remains my biggest joy and Louise Penny is my favorite author. Interesting, because I'm only a sometime mystery reader, but Louise is so much more than a mystery writer. Her revelations regarding character, relationships, philosophy, and psychology set against the haunting backdrop of  snow-covered Canadian woods make her a literary treasure as well as a popular one. She belonged on this list last year; I'm sure she'll belong on this list next year. https://www.louisepenny.com/
Knorr's
Yes, those little packets of seasonings and ingredients for tasty food fast. Roast turkey is a top favorite meal in my family, particularly in November and December.  My home-made gravy is considered part of the tradition, but what my family didn't know was that I was relying on a natural seasoning packet that isn't available anymore. In steps Knorr's Turkey Gravy packet to save the day, and we're back in business. In 2019, I plan to increase my supply of Knorr's helpers to have on hand for a last-minute meal.  https://www.knorr.com/us/en/home.html
Blanket Scarves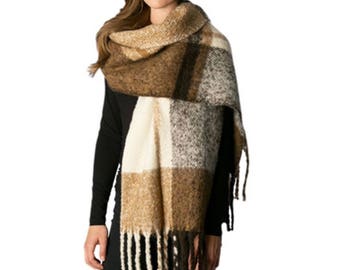 Days are cold in winter in New England, and increasing years can bring increasing sensitivity to temperature. A dear friend introduced me to the luxury of blanket scarves when she returned from a trip to Ireland and gave me a royal blue wool scarf/shawl. Perhaps the term blanket scarf wasn't in use then, and perhaps I'm using the term a bit loosely, as a true blanket scarf is probably more of a square or rectangle that can be used like a small throw, or folded to be used as a scarf.  Whatever the exact dimensions, anyone who gets chilly in winter, or in air conditioning, would benefit from these cozy additions to be worn around the neck, the shoulders, or wrapped around legs and feet. I have three at this point, and decided my mother-in-law needed one for her birthday this year. A MUST for plane travel…
Take good care of yourself in the new year!